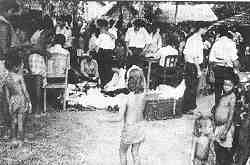 Surgeon-Lieutenant Thergaonkar is medical officer of INS Sandhayak, a naval ship in Vishakapatnam. Surgeon-Lieutenant Verma is a medical officer on a naval submarine ... On that rolling, rickety boat to Panchanandapur, Thergaonkar, Verma and their 8 sailors saw inundated land, the likes of which they have never seen before. They had been sent to give medical cover in Malda. It was going to be work on a war footing.

Their walk to Ganga Bhavan was a walk through human excreta. Dirty, naked pot-bellied children stared at the men as they made their way to the state guesthouse, which looked more like a crumbling mansion where spiders held cobwebbed fort. That night the doctors saw their first patient - a young girl who lay perfectly still on a rickshaw-van. She was dehydrated from gastroentritis.

The next morning, they were besieged. The registration counter of their medical camp in Ganga Bhavan was almost mobbed. Within an hour more than 20 patients lay on the floor with intravenous saline drip. Their eyes sunken, their tongues dry, they were too numb to feel the pain of the needle. The crowds began to swell. Women, men and children complained of skin infection, stomach disorders, fever and of course gastroentritis.

"The women were so anaemic it was a miracle they could walk. The potbellied children smelled like animals and their light brown hair was matted. Chunks of dirt and phlegm covered their faces," recalls Thergaonkar. "Malnutrition stared us in the face. Many complained of periodic high fever; was it malaria? We couldn't confirm, so we prescribed anti-malarial drugs," says Verma.

But even as they wrote their prescriptions, they saw people defecating on open ground near the water. It was also their drinking water. A land of impenetrable ignorance, no questions asked.

"How could we expect anyone to ask us questions of health and hygiene? They hadn't known either in all their lives. A people so weary from the labours of hand-to-mouth existence, they spend their entire lifetime on the first rung of Maslow's ladder of needs," says Thergaonkar feelingly.

Dwindling food supply and rations ("allegedly the panchayat had floated extravagant bills in our name to pocket some funds"), lack of transport, an alleged threat from local quacks and hoodlums who were losing out their patients to the naval doctors and an inert state administration that couldn't come to grips with the situation didn't make things easy." But perhaps we prevented an epidemic of gastroenteritis and there was nothing more we could do after that," says Verma. The naval medical team was derequisitioned by the district magistrate on 24 September.

---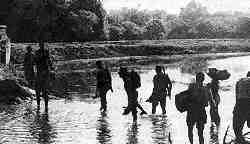 Way back in 1984-85, paramedic AS Chauhan had been part of a team on a naval that dropped food packets to people marooned by floods in Nellore. At Mahanandatolla, he watched VIP helicopters criss-cross the skies. For the team of 41 paramedics, most of them from villages in other states, Malda was a leson in hell country. DVS Suhag says he saw people vomiting foot-long worms for the first time in his life. "The only thing that these people know is saline. They came to us and said give us saline. Through the years, the only medicine they's been given was saline. A doctor they'd known gave them the same at Rs 100 per bottle, no matter what the ailment. He's a damn clever crrok. Saline is a no-risk thing!"

For Chauhan, back home in Rajasthan droughts spell disaster. "But nothing of this magnitude. We never run out of basic amenities, but here, I couldn't believe my eyes. No roads, no transport ... in places we even laid bricks to find our way. A woman who came to me for medicines had one child on her arm, one child by her side and she was pregnant. She was emaciated. When I tried telling a few about birth control they wouldn't listen. 'Not all our children will live. The few that survive will help us in the fields," they said. What do you tell people who don't know that they should build their houses above road level?" he asks incredulously.

Mahanandatolla - it's in the back of beyond. You get to Bhaluka by train, then take a boat from Debipur Ghar. Two hours later you reach Mahanandatolla. Well, if it's so difficult to get there, you simply don't get there. No wonder the doctors saw a few polio victims amomng the poplace. And people here are inured to floods every year. They swear by the fertile soil when the waters recede and watch paddy ripen and think they've got the best deal. "Malnutrition is so glaring because most of the people survive on panta (fermented rice) There's hardly any protein in their diet, maybe just a hint of Urad dal that they grow. But how can you blame them; nobody's ever told them anything about nutrition. Or sanitation," says Surg-Lt Roy. He served at the Mahanandatolla medical camp.

Over time, thr doctors managed to stem the outbreak of an epidemic in gastroentritis. The medical camps soon started functioning in mini-OPDs. "It was then that we began to realize how helples we were. These villagers walked barefeet, had worms, allergies, skin infections. There was this guy who had an open wound from a snakebite. He went into the water, roamed everywhere without even dressing it. One had to start from scratch, we tried as best we could, given our constraints," says Roy.
---

For the team of seven naval doctors and 41 paramedics, two weeks in Malda have been a battle against natural and human odds. The naval team carried 800 kg of medicines but thereafter replenishing the supply was difficult. "The health service apparatus is a separate entity, a law unto itself," says Surg-Lt Commander Bose, principal Medical Officer. INS Netaji Subhas, "in spite of the DM's orders, medicines were difficult to come by. There weren't enough stores."

But that was only the bureaucratic iceberg. The doctors realized that the state administration was as shell shocked as the flood victims. The system, according to the doctors, is perfect on paper, with primary health centers, ICDS, anganwadi workers, but throughout our tenure no government doctor was available.Indeed, even the administratuion is helpless and doesn't really have control at the grassroot level. The entire system is politicized, polarized and riven by unions. It's sad because individually, the IAS or WBCS officer wants to effect change. But the Nehruvian dream dies a death at the BDO's office."

But to be fair, getting cynical, disillusoned was only part of the experience. The navy had after all volunteered to work in Malda with the Flag Officer Commanding-in-Chief, Eastern Naval Command, Vice-Admiral Pasricha offering to help. "When we asked the state government how we could help them, they asked for doctors and medical relief." says Commodore K S K Prasad, Naval Officer in Charge, West Bengal. "We flew doctors and paramedics from Vizag, Cochin, and Mumbai."But I wish they'd asked us earlier for divers, boats and the works. Tha way e could have done more."

Waking up to the reality of lack of education, awareness, health, hygiene, and a failed health system was an eye-opener, "a comedown from the ivory tower of the naval life fairy tales". For the fist time ever, the doctors were made aware of a peculiar rural calling card: drumbeats announcing their arrival to other villages in the vicinity. "It was the experience of a lifetime," says Surg-Lt Sridhar, medical officer-in-charge, Kalyani Hospital, Vishakapatnam. "We rarely see poor health in this degree and scale in cosmopolitan towns. Things aren't going to change in those villages but at least they've heard a thing or two about sanitation." So while one doctor may feel he's pumped "antibiotics into a black hole abd come back", that it's been a "medico's Vietnam", in time they might yet learn to measure their work a day at times.